4 CHEMICAL FREE SULFUR FILTER OPTIONS TO CHOOSE FROM
Watch this video
to learn more about
Sulfur Filters
Why water smells like rotten eggs
Is it harmful
What we do after sulfur is removed
What to expect
Recent Egg Beater Sulfur Filter Installations
By Clean Water America
Well Water - Sulfur Removal Equipment.
Decaying vegetation or chemical reactions with sulfur containing mineral in the soil and rock may naturally create hydrogen sulfide gas in the groundwater. As the groundwater moves through soil and rock formations containing sulfate minerals, some of these minerals are dissolved in the groundwater. Sulfur resides in soil pockets and rock, therefore the environment plays a factor in its presence. Some of these environmental factors include: drought, excess rain, use of lawn irrigation-sprinkler systems, and development of more homes and golf courses.
Open Atmospheric Aeration was the most accepted sulfur removal method used in the last century. This huge, unsightly, and unsanitary holding tank was prone to mechanical breakdowns and used excess electricity. In addition a second pump had to be used to pressurize the lines to the home. Some of the nuisances of maintaining the outdated Aerator system are the spray bar heads that clog, are ruined and must be replaced, along with a repulsive Sulfur slime build-up that is difficult for most homeowners to remove from this overly large deep tank.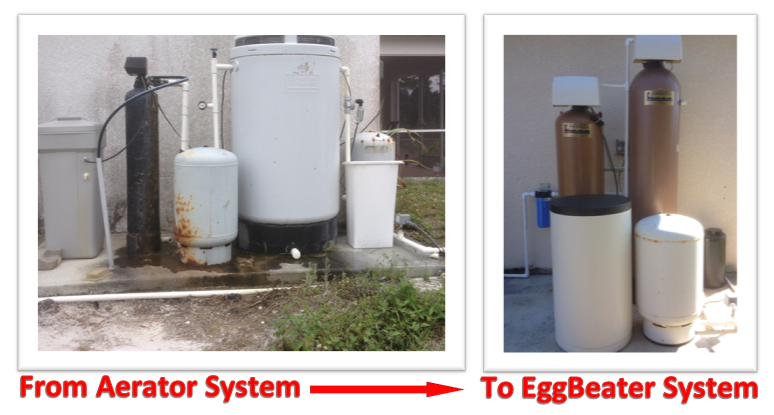 This past decade has introduced new technologies, of which the most proven and reliable is the EGG BEATER system. This system consists of a filter tank using catalytic carbon adsorption principles, which uses oxygen from the air to regenerate. The EGG BEATER is a closed, pressurized system that does not need a house pump, is easily sanitized, and extremely reliable. The EGG BEATER system is a popular choice among home and business owners who prefer no maintenance sulfur free water.